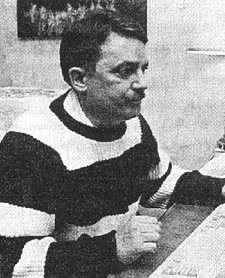 MARK ORRIN

Mark Orrin was born in Manhattan, N.Y., but till age 12 grew up as well in Latin America, Great Britain and (briefly) Europe. After graduating from a Holden Caulfield-ish prep school, he did sporadic stretches at five colleges or universities, never earning an undergraduate degree, before taking his M.A. in Poetry with a Tecahing Fellowship at Johns Hopkins University. He got, he thinks, the best of his education working on farms, in warehouses, on loading docks and living in the streets and shadows of several of America's most thoroughly crumbling inner-city ghettoes.

For a time one of the world's premier fund raising writers and strategists, Orrin now mentors authors of books and poets on the Internet, where he also publishes his work (as he has elsewhere on paper, with a baker's dozen non-self-published- several national award winning- books and scores of magazine and journal articles).

Orrin has lived in Las Vegas, NV, since late March 2003. Though a relative newcomer to Vegas' literary family, he's featured-read his writing often and led poetry workshops. For nearly two years (2007-2008) he booked and co-hosted featured spoken word and music artists and open mic poets at Vegas' First Friday massive arts/street festivals.


********************

A note from Gary Kaschak:

I can't tell you how enjoyable its been working with Mark for all these years. When I first went to him I had no experience in writing novels, and he helped me in a very hands-on way become a better writer with a much better feel for the process of writing novels. So, if you or someone you know is thinking about writing that "great American novel"- don't hesitate to contact Mark. After all, writers do need editing and we do need an experienced guide to help build a book. Mark has made many suggestions to me to help make my books the best that they can be. Here's his Email, and good luck with your writing!

JTJMarco@aol.com