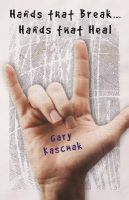 HANDS THAT BREAK...HANDS THAT HEAL REVIEW
By Anton Marco
Hands That Break...Hands That Heal
is an exciting work of fiction, interweaving the story of one remarkable girl's triumph over adversity with the account of two sympathetic adults' collaborative victory over attempted corruption of their community by a sinister businessman and a win-at-all-costs athletic coach. All the while, knitted within the fabric of
Hands
are threads of mystery, "practical mysticism" and spirituality that support strong generation-gap bridging values of family, friendship, self-sacrifice and team sportsmanship.
Hands
young heroine, Becky Chapman, combines the best characteristics of an all-American girl, a modest mystic, a brilliant but non-nerdy student, a natural encourager of others and perhaps even a budding "saint." From the very start of
Hands
, its adult narrator, Becky's middle school volleyball coach (also a professional feature newsman) Paul Strong, realizes that this girl is something special indeed; and as the main story (of Becky's graceful, joyous and determined handling of a literally crushing injury) impacts
Hands
various intriguing sub-plots, Paul himself is enlightened and encouraged by Becky's example to lead his volleyball team to an unprecedented league championship- and to do battle with evil that threatens to consume his community. Ultimately, this one young, "spiritually-minded
and
earthly good" life goes on to impact thousands of others for the better.
Joining Becky and Paul as chief agents of good in
Hands
is their town's still vigorous 95-year-old former Mayor, Joshua Gibson, whom Paul coaxes from retirement obscurity to help find a critically important, long missing Deed to land it protects from development for a wildlife preserve. Seldom are 13-16 year-old readers with more "traditional" values made privy to the way they are viewed and appreciated by younger and older adults. As Becky strives with Paul and Joshua to help make things right for others young and old and for her town, readers experience how and why these adults admire young people like her and hope her "tribe" will grow.
A "heroic" novel thrives or stumbles on great villains, and
Hands
boasts two outstanding antagonists: Coach Daryl Reed, Paul Strong's chief rival for his league's volleyball championship, is a ruthless, intimidating, arrogant, "winning's-the-only-thing: taskmaster whose years'-unbeaten teams seems unconquerable to begin with. Paul's "character first" coaching approach must scramble and employ innovative and uncanny wisdom and subtle strategy to build his St. Luke's Eagles into a worthy opponent for Reed and his Crusaders. As a coach, Paul learns much from Becky's spirited refusal to quit the team after her right hand is utterly crushed. Her determination to contribute whatever she can to the team despite her injury inspires him and her teammates to heights of thrilling achievement in a series of dynamically narrated game-match scenes akin to those of the hit movie
Hoosiers
.
Paul and his cohorts also fight cutthroat businessman A.J. Craft. Not only does Craft have designs on the missing-Deed-sheltered wildlife preserve, because he can't discourage Paul's and Joshua's search for the Deed (or buy Paul off), Craft also vindictively tries to scuttle Paul's volleyball championship quest- before Craft and Reed get their surprising and dramatic comeuppances.
Several factors maximize suspense and thrills in
Hands
: the good guys' struggle for volleyball victories; the mysteries (and its denouement) surrounding the Deed; the puzzle of Becky Chapman and the source of her amazing personal magnetism and powers; the engaging December-December romance that develops between Joshua and a long-lost love; Paul's investigative and coaching ingenuity, and his growing sense of wonder about the guiding "signs" he learns to "read and follow" as the novel proceeds toward its cheer-rousing climax.
I think you'll see in
Hands
a novel that forges these diverse strains together in a unique, truly American blend that will command the attention and stir the enjoyment of middle-school readers (especially girls) as few books can. The author has achieved far more than meets the eye in
Hands
. Into an all-American "teenage winner" story he's tucked just the kinds of inspirational values now regaining currency in the wake of 9/11. It's getting hip again among this readership's age-range to display the kinds of traits Becky Chapman and her adult friends embody: faith in a God who means caring and in our country's best ways, taken by young and old. Times could be just right for an 'up' read like
Hands
, not just to entertain youngsters, but also to give them a sense that evil can be confronted and beaten where they live, as it's now being wrestled with on national and international canvases.
One of the things I like best about
Hands
is its credible demonstration of how people of good will in several generations can act together harmoniously and admire each other with utmost respect. That's a possibility that, even if somewhat 'Capra-corny' is mightily refreshing to see dramatized in our time. I can easily see
Hands
as a Lifetime or maybe Disney T.V. movie or miniseries. The authors clear depiction of place, action, time and varied characters make the story spin like a move in the mind, and one lots of teens would enjoy seeing these days, now that it's o.k. again to admire Becky Chapmans, the things people like her do and the values they stand for.